Learn Tableau - Free Introductory Webinar
Description: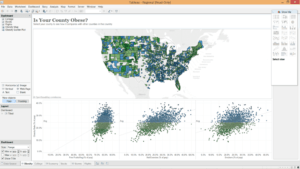 Do you have a need to visualize data? To tell stories and solve business problems using easy to understand charts, maps and graphics? Then Tableau, an industry leading Business Intelligence tool, might be for you. Attend this free Tableau webinar to learn the basics of using Tableau to create data visualizations, dashboards and geographical data maps. You'll see what's possible with Tableau and learn the basics including:
- How to connect to a data source and what data sources are available in Tableau
- How to create bar and line charts in Tableau
- How to create a basic geographic visualization
- And much more...
You'll also learn what is covered in our three-day Tableau Training course and each attendee of this webinar will be automatically entered to win a free copy of Learning Tableau 10 from Packt Publishing, an essential guide to learning how to get the most out of Tableau (attendees must be present in webinar at time of drawing in order to win, in the event the selected attendee is not present, another attendee will be selected to win the prize.)  Space is limited in this webinar, so enroll now to reserve your spot! (all times Eastern Standard Time)