Dependency Types in Microsoft Project
When creating schedules in Microsoft Project the first thing that a Project Manager would typically do is to input the tasks involved in a project. These tasks then need to be linked to show the relationship between them. These links create task dependencies.
There are 4 different types of task dependency:
Finish-to-Start (FS): The finish date of one task drives the start date of another.
Start-to-Start (SS): The start date of one task drives the start date of another.
Finish-to-Finish (FF): The finish date of one task drives the finish date of another.
Start-to-Finish (SF): The start date of one task drives the finish date of another.
If you've ever used Pivot Tables in Excel, you no doubt have discovered the wonders of filtering.  The ability to filter row or column items can be extremely helpful when you don't wish to analyze all of the items in the driving data set.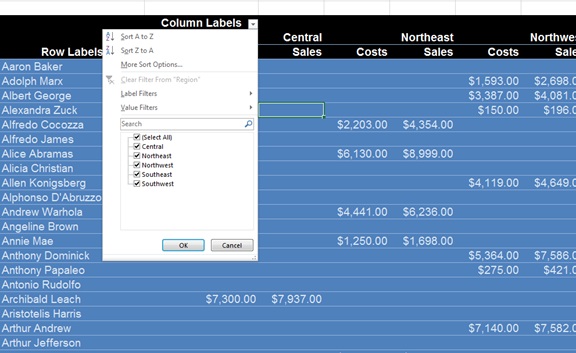 But what do you do if you wish to filter by the Value-based items?  In other words, the numbers in the "connect the dots" area where row and column choices intersect.  These, on first glance, don't appear to have sorting and filtering controls available.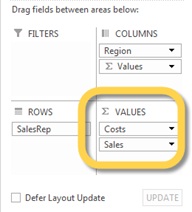 Rest assured, they do exist; you just have to dig a bit to find them.
VLOOKUP is great for returning information from a database, but one of the limitations is that the return information is static.
What if the user wishes to look for certain data one day but different data another day?  This would require either two different sets of VLOOKUP functions or the functions would need to be reprogrammed.
In the database below, the user would wish to return address information in one scenario, but return financial information in another scenario.
Suppose there are times when the user requires a mixture of the two; that would require a third set of VLOOKUP functions. This could become an ever evolving set of work.
Excel PivotTables are one of the greatest tools in the spreadsheet user's toolkit.
However, there is one tiny bit of functionality that appears to be missing: the ability of pivot tables to automatically update when information in the source data changes.
Most user's see this as a glaring lack of functionality. There is, however a very good reason why pivot tables do not automatically update.
With so many hardware devices (like printers, external hard drive enclosures, and home network devices) equipped with USB ports, it's likely that you've collected an array of advertised drives in Windows Explorer that are not actually accessible unless something is connected to them.  Perhaps you have setup a mirrored drive for backup purposes that you want to be "out of sight; out of mind".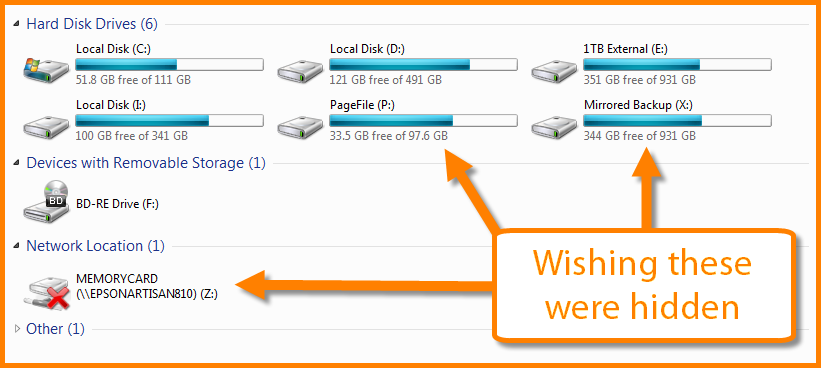 Hiding these devices is quite simple… provided you can do a bit of counting in binary.
Selecting a font in most applications has come a long way over the years.  In the old days you had to select each font separately from a drop down and decide if it was the right font for the job.  Then along came the ability to sample fonts by hovering your mouse pointer over the list.  What a time saver.
But not in Photoshop! (Pssst!  You actually can, but don't tell anyone.  It'll be our little secret.)
Admit it; you've done this more than once.  You open an Office application like Word or Excel and type out your next great novel or number-crunching masterpiece.  Then, in a state of haste, you start closing windows and accidentally close the one window you intended to leave open.  One second later you realize, this was the one windows you shouldn't have closed.  All is lost… or is it?
A common complaint about Power Pivot KPI icons is that it seems no matter which set of icons you select, it only shows the standard Red-Yellow-Green circle icons.
If you have worked with QlikView and encountered the error message "Allocated Memory Exceeded", there could be numerous reasons for this message.  You may have a quite a quest in store for yourself to figure out what the issue is.  But there's quick and easy thing to check that may just be the reason for your plight.
If you have been writing expressions, one of the primary culplits for generating this memory error is a simple syntax error with your expression.
Here's just such a scenerio:  You have created a fantastic pie chart and wish to add some intelligence to the chart.
If you scan documents from a network scanner (like the giant printer down the hall) and have the scan sent to your email, you are probably less than thrilled with the name that the scanner gives the file.  The name is usually something generic and uninformative like "Scan0001.pdf" or a combination of the date and the time like "07182015-100855.pdf".