In our recent free webinar, SkillForge instructor Bryon Smedley shows all of the cool things you can do with Pivot Tables in Microsoft Excel. If you're not using them already, you can learn all about them in our Microsoft Excel Pivot Table Training Class!
If you have ever inserted an object (like a picture, shape, or clipart) into a Word document and then made the unfortunate move where you pushed it behind your text…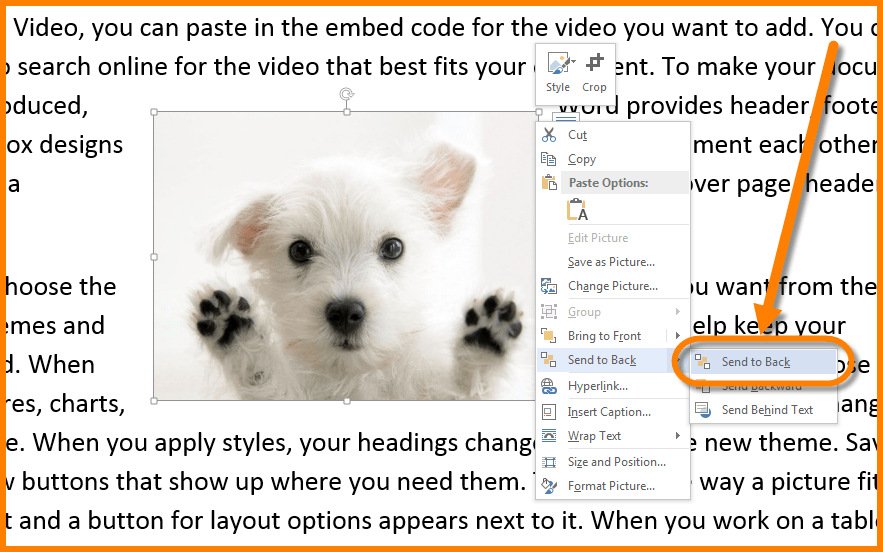 …and now it seems forever trapped behind a sea of impenetrable words.  No matter how hard you try to click, you just cant seem to select that image again.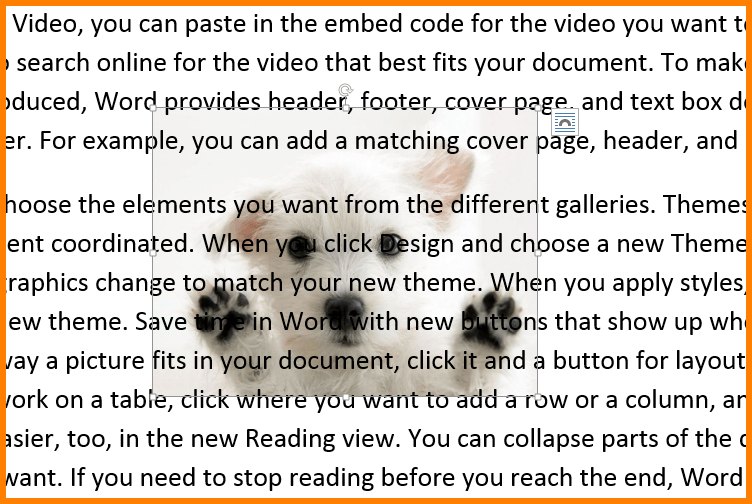 That image now appears forever disconnected; never again shall it be cropped, moved, or resized.  Don't fall into the trap of most users where you end up deleting all of that valuable text just to get to the image that hides behind.
HELP IS ON THE WAY!
There is a very simple way of selecting any object in a Word document, no matter where it lies.  The silver bullet for this problem is called the Selection Pane.  The Selection Pane provides you with a list of all of the inserted objects in the document.  To activate the Selection Pane, select the HOME tab, then in the Editing group of controls click Select followed by Selection Pane… in the provided dropdown list.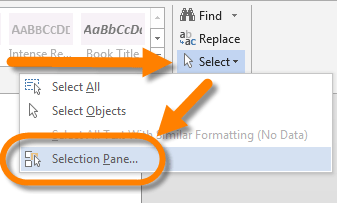 The right side of your screen will now be occupied by the Selection Pane.  A list of every object (non-text) in your document will be listed.  By clicking the name of the object, you can select the object regardless of any normal selection obstacles you have fought with in the past.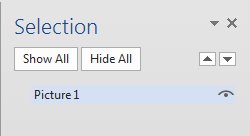 This technique for selecting object is also useful in PowerPoint when you have many small objects on a slide and you have difficulty targeting a specific item.
You can also temporarily hide an object by clicking the Show/Hide icon (looks like an eye) to the right of the listed item.  This is especially helpful when you have a lot of distracting images in your document and you want to focus solely on the text.  There is even a Show All and Hide All feature located at the top of the Selection Pane for when you just want it all to "take a break".
If you are an Excel user who LOVES working from the keyboard as much as possible (i.e. data entry, navigation, feature activation, etc…) then you simply MUST know of this little gem of a keyboard shortcut.
Although we have no scientific data to back up this claim, our hunch is that the COMMA STYLE is the most popular style in the Number Styles library.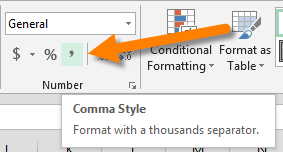 To save time when applying the COMMA STYLE to cells, use the keyboard shortcut CTRL-SHIFT-1

This will apply the COMMA STYLE to the selected cells.
If you want to experiment (what we call "having fun"), try the other keyboard combinations listed below for more number style options.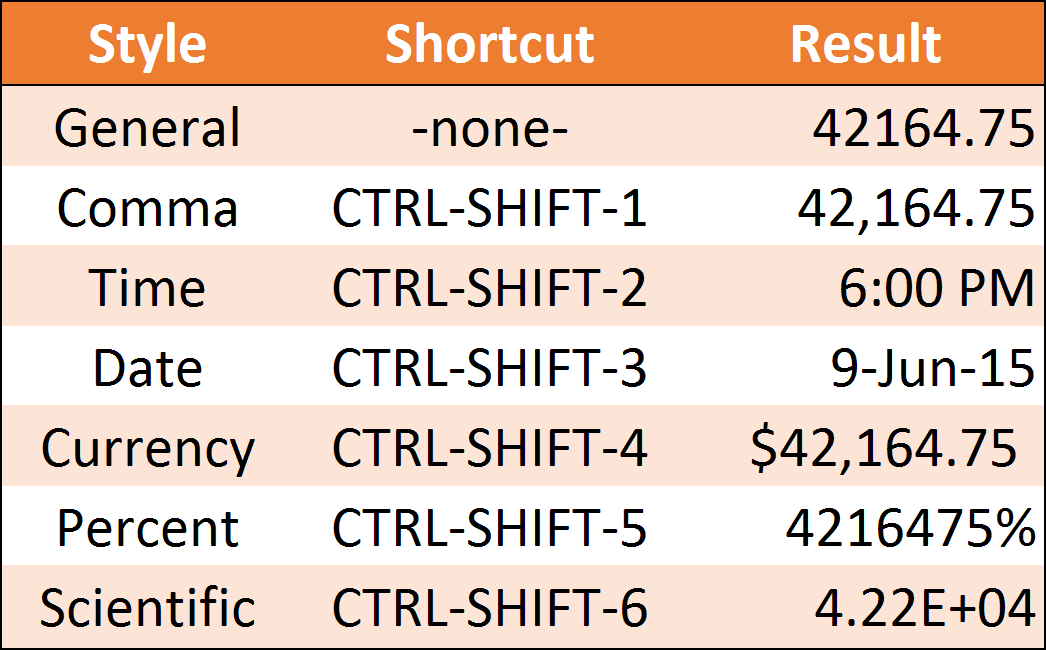 If you work with Microsoft Project and have ever leveraged the power of Resource Pools across multiple projects, you may have encountered a strange behavior when assigning those resources.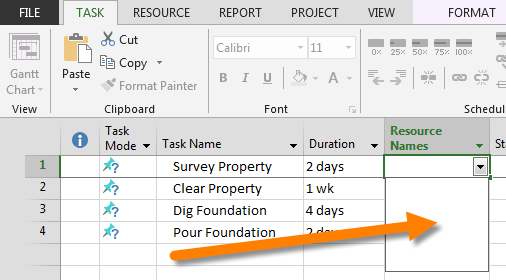 When you share resources between a Resource Pool file (a dummy project file that typically has no tasks but is merely a container for holding resources) and another project file, sometimes the resources don't show up when it comes time to make the resource assignments.
This happens for a very simple reason; one which is easily corrected.
Let's set the stage…
I have two project files; one is the project file containing all of the tasks to be performed (but contains no resources), and the other project file holds all of the resources (but contains no tasks.)

Let's open the files to see exactly what they contain.
Construct Home.mpp – Tasks project file
Resource Pool.mpp – Resources project file

Now share all of the resources in the Resource Pool.mpp file with the Construct Home.mpp file.  This is accomplished by performing the following steps:
Open both files and select the Construct Home.mpp file (the Project file with the tasks.)  Select the RESOURCE tab, and in the Assignments group on the ribbon select Resource Pool and then Share Resources…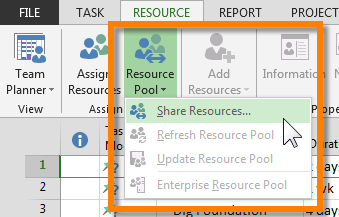 From the Share Resources dialog box, select "Use Resources…" and then select the Resource Pool.mpp file from the dropdown menu.  Also, ensure that "Pool takes precedence" is selected.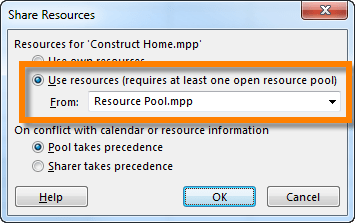 All of the resources from the resource pool file are now available for assignment in the tasks file.

Now on to the Missing Resources issue.
We will now close ALL of the Project files and reopen just the project file containing the tasks (Construct Home.mpp.)
We are immediately presented with the following dialog box: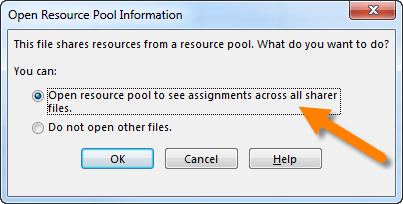 If we select "Open resource pool to see assignments across all sharer files" all of our resources are available for assignment to our tasks.

Now close all Project files again. Reopen the tasks project Construct Home.mpp but this time we will select "Do not open other files" from the dialog box.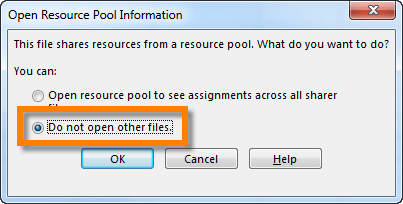 When we attempt to assign resources to tasks, the resources have vanished.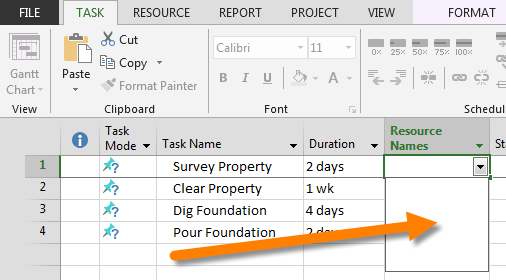 So the moral of this story is: In order to assign resources utilized from a different Project file, both the file holding the tasks and the file holding the resources must be open at the same time.
In this Microsoft Excel PowerPivot tutorial, you'll see how to use Microsoft Excel PowerPivot to import data from multiple data sources, link the data based on common fields and finally create a PivotTable and PivotChart to quickly analyze the data. This content is from our live, instructor-led Microsoft PowerPivot Training class.
In this Microsoft Excel tutorial, you'll see how to format cells in Microsoft Excel using the Format Painter tool. Learn more about Microsoft Excel in our Microsoft Excel Training courses.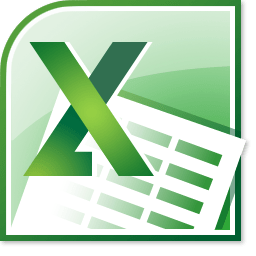 Keyboard shortcuts may seem like a throwback to the olden days, but they can seriously ramp up your productivity once you start using them. Especially for tasks you do on a repeated basis.
Here are some of the most common Microsoft Excel keyboard shortcuts.
F7 – Check spelling
F11 – Insert a chart
F12 – Save As
CTRL+O – File Open
CTRL+N – File New
CTRL+P – Print
CTRL+; – Insert today's date
CTRL+H – Find and replace
ALT+ENTER – Start a new line in the same cell
CTRL + HOME – Move to cell A1
CTRL+END – Move to the last cell/column in the worksheet
HOME – Move to the first cell in the current row
CTRL+SHIFT+~ – Apply the general number format
CTRL+SHIFT+!  - Apply the number format
CTRL+SHIFT+% – Apply percentage format
CTRL+SHIFT+# – Apply date format
CTRL+SHIFT+$ – Apply currency format
If your company uses Google AdWords to advertise your services or products and you logged in to your Google AdWords account today, you might have noticed a new option. With a tongue-in-cheek message "Let your ads take flight with AdBirds…" a link will take you to the following page, which promises to take your campaign to "new heights by placing ads on real birds."  Guess we'll have to add that topic to our Google AdWords Training Course! Funny stuff Google!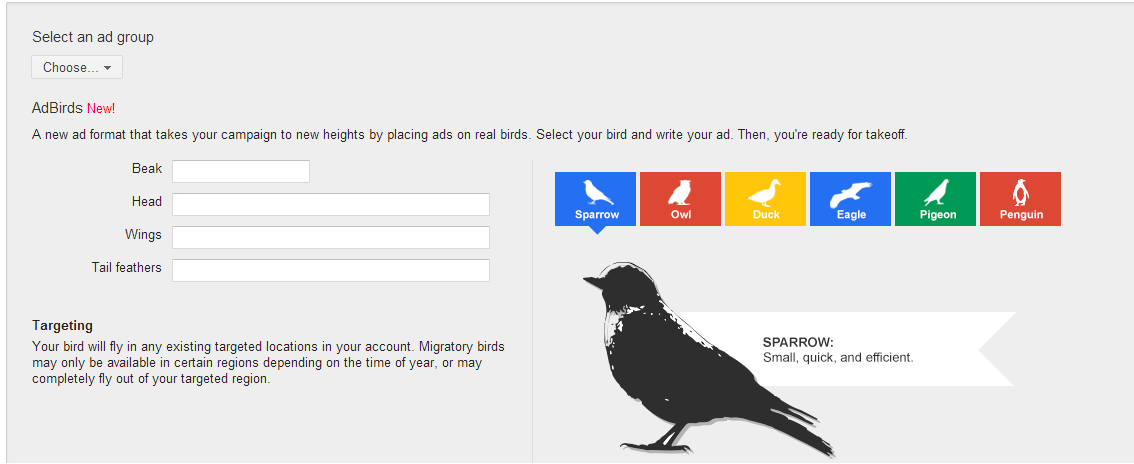 With the increasing importance on business intelligence tools in today's business environment, it's important to know the difference between products. Especially because many product vary widely in price, but can sometimes offer similar functionality. For instance, two popular BI tools, Tableau and PowerPivot (from Microsoft) have many comparable features but one (depending on the version and functionality you need) is free (that would be PowerPivot.) While the other, Tableau can cost in the thousands of dollars – again, depending on the version and functionality you need.
Luckily, there are several great sites that have compared PowerPivot and Tableau and provide a great overview of the difference between the two in terms of versions and funcationality. If you're considering a BI tool for your organization and PowerPivot and Tableau are on your list, check out these sites to compare the two:
Microsoft PowerPivot vs. Tableau (link from SQLMag.com)
Tableau vs. Power Pivot Part 1: Basic Functionality (link from breaking-bi.blogspot.com)
Tableau vs. Power Pivot: Basic Charting (link from breaking-bi.blogspot.com)
Tableau vs. Power Pivot: Basic Data Modeling (link from breaking-bi.blogspot.com)
Tableau vs. Power Pivot: KPIs (link from breaking-bi.blogspot.com)
If you've ever inherited a database someone else created in Microsoft Access you may have run across the dreaded "hidden-table" scenario. This is when the original developer of the database has hidden (probably in an effort to keep anyone from disturbing them) the source tables that contain your data from the Navigation Pane in Microsoft Access. You'll realize this has happened, typically, because you'll go to create a query and you'll see a tables or tables as being available to include in your query, but strangely, you don't see those same tables listed in the Navigation Pane in Access. To fix this problem in Microsoft Access 2010 you can:
Right-click on the title of the Navigation Pane (It probably displays the words "All Access Objects" but may say "Tables" or "Queries," etc. if you have changed your Navigation Pane View.

Click on "Navigation Options" from the shorcut menu.
In the Navigation Options dialog box, check the option to "Show Hidden Objects"

The hidden Access tables should now appear, but are "grayed out."  You can still open them, but to unhide them permanently, right-click on the table you want to unhide and select "Unhide in this Group"