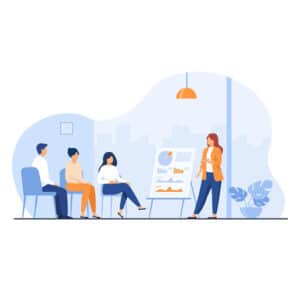 Effective Presentation Skills Training
This Course Covers Version(s): N/A
Available Delivery Methods
The ability to deliver presentations is vital to achieving advancement for yourself and for your ideas. Few skills in life will contribute to your success as much as presentation skills. Without a dynamic and coherent presentation, even stellar ideas can fail to convince your audience. In this course, you will learn to organize your ideas to create coherent and convincing oral presentations, while also utilizing available visual aids and using public-speaking techniques to strengthen your delivery.
Upon successful completion of this course, students will be able to:
Define what makes a presentation effective.
Plan presentations.
Design a presentation framework.
Develop the presentation body.
Create supporting materials.
Prepare for your presentation.
Deliver presentations.
Conduct a question-and-answer session.
Deliver group presentations and virtual presentations.
Defining Presentation Effectiveness

Identify Qualities of Effective Presentations
Evaluate Yourself as a Presenter

Planning Presentations

Analyze the Audience
Establish Your Presentation's Objectives

Designing the Presentation

Create the Presentation Structure
Organize the Presentation Body
Write the Conclusion First
Write the Introduction

Developing the Presentation Body

Select Evidence
Write the Presentation Body
Create Visuals

Creating Supporting Materials

Create a Slide Deck
Create Speaker Aids
Create Audience Handouts

Preparing for Your Presentation

Rehearse the Presentation
Plan Event Logistics

Delivering Presentations

Connect with Your Audience
Present Powerfully
Utilize a Slide Deck Effectively

Conducting a Question-and-Answer Session

Answer Questions
Handle Challenging Questions

Presenting in Common Business Scenarios

Plan and Deliver a Virtual Presentation
Plan and Deliver Group Presentations
Live, Instructor-Led Online Class for INDIVIDUALS
Live, Instructor-Led Online or Onsite Class for GROUPS