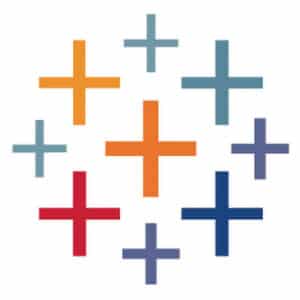 Tableau Training
This Course Covers Version(s): Tableau Desktop 2020.2
Available Delivery Methods
In this Tableau Training course, students will begin by learning how to prepare their data for use in Tableau. They will then go on to learn how to create Data Visualizations, Dashboards and Stories in Tableau. Students will also learn how to create custom visualizations and geographic maps in Tableau. Finally students will learn about the various ways to distribute their dashboards and visualizations This course is designed for students who are either new to Tableau or have some experience and want to expand their skill set. This course is based on Tableau Desktop 2020.2
Upon successful completion of this course, students will be able to:
Identify and configure basic functions of Tableau.
Connect to data sources, import data into Tableau, and save Tableau files.
Create views and customize data in visualizations.
Manage, sort, and group data.
Save and share data sources and workbooks.
Filter data in views.
Customize visualizations with annotations, highlights, and advanced features.
Create maps, dashboards, and stories.
Tableau Fundamentals
Overview of Tableau
Tableau vs Excel
What is a Viz in Tableau?
Using VizQL for Queries in Tableau
Overview of Tableau Versions
Overview of Tableau Desktop Certifications
Navigate the Tableau Interface and Configure Settings
Connecting to and Preparing Data
How to Connect to a Data Source in Tableau
Metadata Grid vs Data Grid
Live Data vs Extracted Data in Tableau
Cross-Database Joins and Data Blending
Datasource Filters
Prepare Data for Analysis
The Tableau Data Interpreter
The Tableau Prep Tool
Pivoting Data
Split Fields
How to Save Workbook Files
Workbook File Types
Packaged Workbooks
The Tableau Repository
Exploring Data
How to Create a View in Tableau
Column and Data Shelves in Tableau
What is a Mark in Tableau?
Customize Data in Visualizations
Highlight Tables
Highlight Actions
Heat Maps
Tree Maps
Types of Measure Aggregation
Data Hierarchies in Tableau
How to Create Table Calculations
Managing, Sorting, and Grouping Data
Adjust Fields
Rename Fields
Hide and Unhide Fields
How to Sort Data in Tableau
Nested Sorts
How to Group Data in Tableau
Saving and Sharing Data
Save and Publish Data Sources
Using Data Extracts
Share Workbooks in Tableau
Workbook Security in Tableau
Share Tableau Workbooks with Non-Tableau Users
Filtering Data
Using Worksheet Filters in Tableau
Apply Advanced Filter Options
Data Source Filters
Extract Filters
Context Filters
Filter Actions
Filter Order of Operations
How to Create Interactive Filters in Tableau
Cascading Interactive Filters
Customizing Visualizations
Format and Annotate Views
Highlight Data
Using Reference Bands
Using Reference Distributions
Using Box Plots
Using Drop Lines
Using Trend Lines
Create Advanced Visualizations
Clusters in Data
Level of Detail (LOD) Expressions
Options for Adding Forecasts
Step and Jump Lines
Scatter Plots
Creating Maps, Dashboards, and Stories
How to Create Geographic Maps in Tableau
Data Mapping
Types of Maps in Tableau
How to Customize Maps
How to Create Dashboards in Tableau
How to Create a Story in Tableau
Live, Instructor-Led Online Class for INDIVIDUALS
Live, Instructor-Led Online or Onsite Class for GROUPS