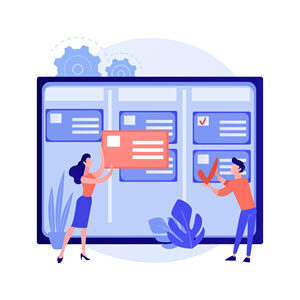 Project Management Training
This Course Covers Version(s): N/A
Available Delivery Methods
Successfully managing a project requires effective planning and adherence to the industry's best practices in every step of the process. By understanding the fundamentals of project management, students will be better prepared to initiate a project in their organization and position it for success. In this Project Management Training course, students will identify effective project management practices and their related processes.
Upon successful completion of this course, students will be able to:
Describe the Project Management Lifecycle
Identify Project Team skills
Identify Project risks
Create a Project schedule
Determine Project Costs
Execute a Project plan
Track Project progress
Close a Project
Getting Started with Project Management
Describe a Project
Describe the Project Management Life Cycle
Identify the Role of a Project Manager
Initiating a Project
Determine the Scope of a Project
Identify the Skills for a Project Team
Identify the Risks to a Project
Planning for Time and Cost
Create a Work Breakdown Structure
Sequence the Activities
Create a Project Schedule
Determine Project Costs
Planning for Project Risks, Communication, and Change Control
Analyze the Risks to a Project
Create a Communication Plan
Plan for Change Control
Managing a Project
Begin Project Work
Execute the Project Plan
Track Project Progress
Report Performance
Implement Change Control
Executing the Project Closeout Phase
Close a Project
Create a Final Report
Some on-the-job experience in participating in managed projects is beneficial but not required.
Live, Instructor-Led Online Class for INDIVIDUALS
Live, Instructor-Led Online or Onsite Class for GROUPS