Power Platform Training Courses
The Microsoft Power Platform is a suite of products that includes Power Apps, Power Automate (formerly Flow), Power BI and Power Virtual Agents. Together, these tools allow users to automate, integrate and analyze data and processes within their organization using a set of low/no-code tools designed for both IT and non-IT staff alike. A recent Forrester study found development costs reduced by 74% with the use of Microsoft PowerApps. Our Power Platform courses prepare your team to use these tools to maximize efficiencies and decrease costs across your organization.
PowerApps allows you to build custom apps for business needs that run on all types of devices and enables integration from disparate data sources to create seamlesss solutions to your business problems.
Power Automate enables users to create automated workflows and automate repetitive business processes with just a few clicks. If you've ever used a macro in Excel, Access or Word to automate a series of steps you perform regularly, take that idea and expand it to your whole desktop – or even the web and you'll get an idea of the power of Power Automate.
Power BI allows users to take business data and display it to users in ways that make sense – in dashboards using geographical maps, charts, custom graphics and much more.
Power Virtual Agents enables users to create chatbots without the need for a developer. These chatbots can integrate seamlessly with backend systems or other workflows to streamline interactions between users and systems.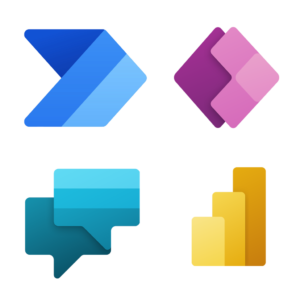 Available Courses