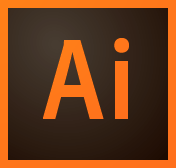 Illustrator Training
This Course Covers Version(s): Adobe Illustrator CC
Available Delivery Methods
In this Adobe Illustrator CC Training course, students will learn how to use Illustrator to create logos, illustrations, posters, and more. They will explore the new streamlined Tools panel and all of the features essential for being productive in Illustrator, including working with the Shaper tool and Live Shapes along with dynamic symbols to streamline graphics creation. Students will also learn how to create website assets and export them in multiple formats to support modern responsive web designs and how to extract an illustration to a free-form painting.
Upon successful completion of this course, students will be able to:
Select and align elements.
Create and edit shapes.
Transform objects.
Use drawing tools.
Work with type and layers.
Work with shapes and colors.
Work with brushes.
Apply effects
Work with Symbols
Integrate Illustrator with other Adobe products
Getting to Know the Work Area

Introducing Adobe Illustrator
Starting Illustrator and opening a file
Exploring the workspace
Changing the view of artwork
Navigating artboards
Arranging multiple documents

Techniques for Selecting Artwork

Selecting objects
Aligning objects
Working with groups
Exploring object arrangement

Using Shapes to Create Artwork for a Postcard

Creating a new document
Working with basic shapes
Working with the Shaper tool
Using Image Trace
Working with drawing modes

Editing and Combining Shapes and Paths

Editing paths and shapes
Combining shapes
Using the Width tool

Transforming Artwork

Working with artboards
Working with rulers and guides
Transforming content

Creating an Illustration with the Drawing Tools

An intro to drawing with the Pen tool
Creating artwork with the Pen tool
Editing paths and points
Working with the Curvature tool
Creating a dashed line
Adding arrowheads to paths
Working with the Pencil tool
Joining with the Join tool

Using Color to Enhance Signage

Exploring color modes
Working with color
Working with Live Paint

Adding Type to a Poster

Adding type to the poster
Formatting type
Resizing and reshaping type objects
Creating and applying text styles
Wrapping text
Warping text
Working with type on a path
Creating text outlines

Organizing Your Artwork with Layers

Creating layers and sublayers
Editing layers and objects
Creating a clipping mask

Gradients, Blends, and Patterns

Working with gradients
Working with blended objects
Creating patterns

Using Brushes to Create a Poster

Working with brushes
Using Calligraphic brushes
Using Art brushes
Using Bristle brushes
Using Pattern brushes
Working with the Blob Brush tool

Exploring Creative Uses of Effects and Graphic Styles

Using the Appearance panel
Using live effects
Applying a Photoshop effect
Using graphic styles

Creating Artwork for a T-Shirt

Working with symbols
Working with Creative Cloud libraries

Using Illustrator CC with Other Adobe Applications

Combining artwork
Placing image files
Masking images
Working with image links
Packaging a file
Creating a PDF

Exporting Assets

Creating Pixel-Perfect Drawings
Exporting artboards and assets
Creating CSS from your design
Students should have experience using a computer to complete basic tasks.
Live, Instructor-Led Online Class for INDIVIDUALS
Live, Instructor-Led Online or Onsite Class for GROUPS