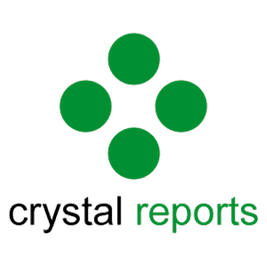 Crystal Reports Introduction Training
This Course Covers Version(s): Crystal Reports 2008, 2011, 2013, 2016 and 2020 (Does not cover version XI)
Live Class with Instructor

Digital Course Manual
Hands-on Labs

One Year Access to Recorded Course
In this Crystal Reports Introduction Training course, students will learn how to build reports that incorporate sorting, grouping, filtering, subtotals, formulas and much more. Students will learn how to navigate the Crystal Reports interface, design and preview reports and prepare reports for printing or distribution. This class is for students who are new to building reports in Crystal Reports or may have used a previous version and want to update their skills.
Upon successful completion of this course, students will be able to:
Explore the Crystal Reports interface.
Create a basic report and modify it.
Use formulas for filtering data.
Group report data.
Format a report with graphics, lines, boxes and other effects
Create a report that accepts user input.
Distribute reports.
Students should have experience navigating in a Windows environment. Some experience with Microsoft Access or an understanding of database concepts is also helpful, but not required.
This Crystal Reports Introduction Training course is designed for students who will be designing reports using Crystal Reports and who have little to no experience using the tool, or may have used a previous version and want to brush up on their skills.
Exploring Crystal Reports

Crystal Reports Interface

Report Development
Touring Crystal Reports

Toolbar Overview
Program Customization
Viewing a Sample Report
Report Layout

Navigation Tabs
Conditionally Formatted Fields
Grouping
Subtotals
Design Tab
Preview Tab
Close the report

Creating and Modifying Reports

Creating a Report

Defining a Report
Data Sources
Creating a Report
The Database Expert Tool

Exploring the Design tab
Adding Fields to a Report
Adjusting Field Position and Size

Resizing Fields
Moving Fields

Previewing Field Data
Aligning Field Data

Selecting Fields
Aligning Fields

Creating a Text Object
Saving the Report

Saving the Data with the Report

Previewing Report Data

Preview Data Methods
Navigating the Previewed Data
Locally Stored Data

Formatting Number-based Fields

Formatting Introduction
Accessing the Formatting Options for a Field
Formatting Numbers
Formatting Currency
Formatting Date and Time

Grouping, Sorting and Filtering

The Importance of Grouping Records
Sorting Records with the Record Sort Expert
Filtering Records with the Select Expert

The Stages of Filtering
Select Expert Filter Methods
Implementing Record Filters with the Select Expert
Filtering Records with Multiple Criteria
Modifying Existing Filter Criteria
Deleting Filter Criteria
Changing Multiple Filter Criteria Logic

Creating Group Summary Calculations

Summary Operators
Grand Totals
Group Totals

Cleaning Up the Report
Calculating Percentages in Summaries
Sorting Groups According to Subtotal Rankings

Additional Formatting Objects

Adding Lines

Accessing the Formatting Options for a Line
Adding Vertical Lines to a Report

Adding Boxes

Accessing the Formatting Options for a Box

Inserting Graphics
Formatting Page Options

Printer Options
Page Options
Margins

Combine Fields with Text Objects
Insert Special Fields

Special Fields
Document Properties

Working with Formulas

Creating a Formula

Crystal Formula Syntax
Formula components and syntax

The Formula Workshop

Toolbars
Workshop Tree
Formula Editor
Tables and Fields
Functions
Operators

Simple Formulas

Checking for Syntax Errors in Formulas
Recycling Formula Fields

Handling NULL Values

Crystal Reports – How Nulls are handled
Handling Nulls via formulas

Working with Multiple Tables

Understanding Database Components

Fields
Tables
Records
Keys

Joining Tables and Join Types

Outer Join
Inner Join
Left Join
Right Join

Adding Multiple Tables with the Database Expert

Conditional Formatting

Formatting Section Behavior

Common Tab
Paging Tab
Color Tab
Layout Tab

Formatting Sections with Conditional Logic
Suppressing Sections Conditionally
Formatting Fields Conditionally

Summary Reports and Charting

Creating a Summary Report

Hide: (Drill-Down OK)
Suppress (No Drill-Down)

Utilizing Drill-Down to View Report Details
Creating Charts with the Chart Expert

Placing and Sizing Charts

Formatting and Editing Charts

The Data Tab
The Type Tab
The Axes Tab
The Options Tab
The Color Highlight Tab
The Text Tab
Modifying Existing Charts
Zooming In and Out on Charts

Formatting Individual Chart Objects

Chart Expert
Format Chart
Format Background
Chart Options
Auto-Arrange

Exporting Reports

The Need to Export
Export Formats

Character Separated Values
Crystal Reports (RPT)
RPTR
RTF
Microsoft Excel
HTML (3.2 and 4.0)
PDF (Portable Document Format)
Text
Microsoft Word
XML
Record Style – Column with spaces
Record Style – Column without spaces
Report Definition

Export Destinations

Application
Disk File
Exchange Folder
MAPI (Messaging Application Programming Interface)

Previewing with HTML
This course does not align to a specific exam or certification.
Virtual or In-Person Group Training
For Private Groups as small as 2 people.
Live, Instructor-led Online or Onsite Class for your group.
Customizable to your needs.