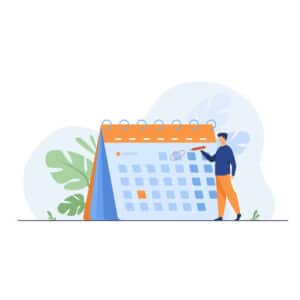 Time Management Training
This Course Covers Version(s): N/A
Available Delivery Methods
This Time Management Training course introduces students to the concepts of time management and it's importance in increasing personal productivity. The course covers how to set goals, use technology and tools to help manage a schedule and how to prevent interruptions and other obstacles from affecting your efforts.
Upon successful completion of this course, students will be able to:
Develop time management plans by identifying goals, creating daily plans, and recognizing obstacles.
Use technology to save time instead of wasting time; and maintain a reasonable workload by saying "no".
Increase productivity by controlling interruptions and meetings, and recognizing factors that adversely affect productivity.
Avoid information overload by identifying causes, screening information, controlling paperwork, and using a filing system to organize your office.
Time management overview

Principles of time management
Productivity cycles
Goals and priorities

Time management plans

Time management plan
Daily plan

Technology and time management

Technology saves time
Say "No"

Productivity

Interruptions and meetings
Factors affecting productivity

Information overload

Causes of information overload
Organize your office
Communication
Live, Instructor-Led Online Class for INDIVIDUALS
Live, Instructor-Led Online or Onsite Class for GROUPS