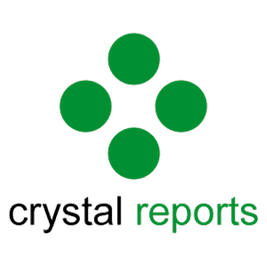 Crystal Reports Intermediate Training
This Course Covers Version(s): Crystal Reports 2008, 2011, 2013, 2016 and 2019 (Does not cover version XI)
Live Class with Instructor

Digital Course Manual
Hands-on Labs

One Year Access to Recorded Course
In this Crystal Reports Intermediate Training Course, students will build on their existing knowledge of Crystal Reports to create more complex reports for specific business scenarios. The course starts with a quick review of building basic Crystal Reports and then quickly moves on to more intermediate topics like using multiple sections in your report to create alternating or conditional Group or Page Headers. Students will also learn how to use Running Totals in a Crystal Report, which allow a user to summarize only specific data in a report (unlike Subtotals and Grand Totals, which don't provide as much control over which data is included in an aggregation.) In addition, the course covers the use of Parameters in a Crystal Report, which makes a report more dynamic by actually prompting the user, for instance, to enter a month or date range they would like to run the report against. As students progress through the course, they will also see how to create more advanced formulas that use variables and arrays to hold values for use in other places in the report. Another key takeaway for students in this course is how to use Subreports in situations where data from multiple, potentially unrelated, tables needs to be brought together in one report. The course continues with a lesson on how to sort, filter and create custom Groups in a report. And, finally, students will see the power and flexibility of Cross-Tab reports and Cross-Tab charts in Crystal and how they can be used to summarize data quickly and efficiently.
Upon successful completion of this course, students will be able to:
Create automatic and manual running totals
Work with cross-tab reports
Add subreports
Use parameters to create dynamic reports
Create complex formulas
Add custom groups to a report
Create report alerts
Students should have experience navigating in a Windows environment. Some experience with Microsoft Access or an understanding of database concepts is also helpful. Students should also have attended, or have experience with the concepts in our Crystal Reports Introduction Training Course.
This course is designed for students who have mastered the basics of Crystal Reports and now want to enhance their reports by using dynamic parameters, sub-reports, advanced formulas and cross-tab reports.
Review of Crystal Report Basics

Planning a Report
How to Create a Report
Placing Fields on the Design Surface
Creating Formulas
Advanced Grouping Techniques
Filtering Records
Formatting the Report
Working with Text Objects
Hiding and Suppressing Sections

Creating Complex Reports with Multiple Sections

How to Create Multiple Sections in a Report
Using the Section Expert
Using Conditional Formatting With Multiple Sections
Using Built-In Functions to Format Sections

Creating Running Totals

What is a Running Total and Why Do You Need One?
Creating Running Totals
Using Conditional Running Totals

Using Parameters in a Report

When to Use Parameters in a Report
How to Create a Parameter Field
Using a Parameter to Filter Records
How to Use the Parameter Panel
Using a Dynamic Value List for Parameter Values
Importing a List of Parameter Values
Using a Parameter Value in a Text Object
Enabling Multiple Value Selection in a Parameter
Using Multiple Parameter Fields in a Report
Limit Parameter Input with Ranges
Using Parameters to Conditionally Format a Report
Using Edit Masks to Limit Parameter Input
Sorting a Report Based on a Parameter Value
Using Cascading Parameters in a Report

Creating Advanced Formulas

Where to Place Your Formula
Why Some Formulas Don't Work Correctly
Using Variables in a Formula
How to Declare a Variable
How to Assign a Value to a Variable
Using a Variable in a Formula
Where Can Variables be Used in Crystal
Syntax Rules for Complex Formulas
Understanding What an Array Is
How to Find and Fix Errors in a Formula

Using Subreports in Crystal

Understanding Subreports
Linked and Unlinked Subreports
Creating an Unlinked Subreport
Creating a Linked Subreport
Using Subreports in One-to-Many Situations
Formatting Subreports
How to Pass Data from the Main Report to a Subreport
Creating On-Demand Subreports
How to Link "Unlinkable" Data

Advanced Grouping

Using Custom Groups in a Report
Controlling Group Sorting Order
Filtering Groups in a Report
Grouping using Formula Fields
Hierarchical Grouping Scenarios

Using Cross-Tab Reports in Crystal

What is a Cross-Tab Report
Creating a Cross-Tab Report in Crystal
Creating a Cross- Tab with Multiple Rows or Columns
Formatting a Cross-Tab Report
Changing Background Colors
Formatting Cross-Tab Cells
Using Summary Operators
Suppressing Cross-Tab Rows, Columns or Totals
Repeating Row Headings
Using Aliases for Headings
Cross-Tab Charts
Using Cross-Tab Group Names
Accessing Field Values in Formulas

Using Report Alerts

What are Crystal Report Alerts
How to Create Report Alerts
Uisng Report Alerts in Formulas and Formatting
Using Report Alerts with Parameters
This course does not align to a specific exam or certification.
Virtual or In-Person Group Training
For Private Groups as small as 2 people.
Live, Instructor-led Online or Onsite Class for your group.
Customizable to your needs.