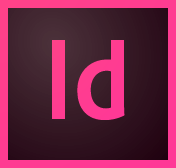 InDesign Training
This Course Covers Version(s): Adobe InDesign CC
Live Class with Instructor

Digital Course Manual
Hands-on Labs

One Year Access to Recorded Course
In this Adobe InDesign CC Training course, students will build a strong foundation of typographic, color, page layout, and document-construction skills that will enable them to produce a broad range of print and digital publications—from a simple postcard to an interactive Adobe PDF with form fields. The real-world exercises in this course are designed to train beginning Adobe InDesign users in the program—from fundamental features to powerful layout and output skills. This course also enables experienced InDesign users to elevate their skills, understand best practices, and learn about new features – including the ability to browse fonts visually, use Content Aware Fit for intelligent image placement, use Layout Adjust to automatically adjust layout when changing page sizes, and quickly access common controls in the Properties panel.
Upon successful completion of this course, students will be able to:
Navigate the InDesign interface.
Create a new document.
Customize a document using color, swatches, gradients, and styles.
Manage page elements.
Add tables.
Prepare documents for deployment.
Prepare documents for multiple formats.
Manage advanced page layouts.
Manage styles.
Build complex paths.
Manage external files and create dynamic documents.
Manage long documents.
Publish InDesign files for other formats and customize print settings.
Students should have experience using a computer to complete basic tasks.
This course is designed for both new and experienced Adobe InDesign users who are interested in becoming more proficient in their use of Adobe InDesign.
Getting Started with InDesign

Identify Components of the InDesign Interface
Customize the InDesign Interface
Apply the Navigation Controls and Set Preferences

Designing a Document

Establish Project Requirements
Apply Design Principles
Create a New Document
Add Text to a Document
Add Graphics to a Document

Customizing a Document

Format Characters and Paragraphs
Apply Colors, Swatches, and Gradients
Create and Apply Styles

Working with Page Elements

Arrange and Align Objects
Apply Layers
Transform and Manipulate Objects
Thread Text Frames
Edit Text

Building Tables

Create and Modify a New Table
Format a Table

Preparing a Document for Delivery

Resolve Errors in a Document
Export Files for Printing and for the Web

Preparing Documents for Multiple Formats

Build Layout Versions
Link Content

Managing Advanced Page Elements

Create Repeating Content
Change Text Layouts
Create Transparency
Anchor Objects and Manage a Library

Managing Styles

Import Styles from Microsoft Word Documents
Manage Styles

Building Complex Paths

Create Bezier Paths
Create Clipping Paths
Create Compound Paths

Managing External Files and Creating Dynamic Documents

Import External Files
Create Document Sections
Insert Text Variables
Create Interactive Documents

Managing Long Documents

Create a Book
Build a Table of Contents
Create Hyperlinks and Cross-References
Generate an Index and Insert Footnotes

Publishing to Other Formats and Customize Print Settings

Export PDF Files for Print
Export Interactive PDF Files and Files for Animation
Export Files for the Web
Manage Colors
Preview the Print Output
Create Print Presets
Virtual or In-Person Group Training
For Private Groups as small as 2 people.
Live, Instructor-led Online or Onsite Class for your group.
Customizable to your needs.