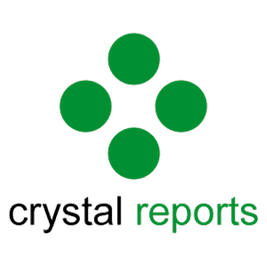 Crystal Reports Advanced Training
This Course Covers Version(s): Crystal Reports 2008, 2011, 2013, 2016 and 2019. (Does not cover version XI)
Live Class with Instructor

Digital Course Manual
Hands-on Labs

One Year Access to Recorded Course
In this Crystal Reports Advanced Training course, students will create complex reports from data sources using SQL statements, they will also see how to create complex formulas and perform loops and use conditional logic within a formula. Students will also learn how to create more sophisticated cross-tabs reports and tips and tricks for using parameters effectively. This course introduces students to the concepts that form the foundation for connecting to different types of data sources, including ODBC and OLE DB. Connecting to relational databases, flat files, Access, Excel and other data sources are discussed and the difference between using Native versus Generic database drivers is covered as well. This course helps students to improve the performance of their reports and tackle real-world situations where data is drawn from multiple different data sources and linked in a Crystal Report. The course also discusses how to handle moving a report from design/testing to production and reconnecting to a data source when it has moved or changed. Students will also be introduced to using Stored Procedures, SQL Command Objects and database Views as the basis for their reports. Significant time is spent on understanding control and decision structures in Crystal Reports formulas, such as Select Case and For and Do While Loops. Students will also learn how to create their own reusable custom Functions in Crystal and the benefits for doing so. This course also guides students on creating and modifying advanced Cross-Tab reports that allow for the custom display of aggregated data.
Upon successful completion of this course, students will be able to:
Work with native data drivers to connect to data.
Work with ODBC, OLE DB and other drivers to connect to data.
Work with simple to complex SQL statements.
Create conditional logic within a formula.
Create complex cross tab reports.
Use parameters in reports more effectively.
This course is designed for people who know how to create basic list and group reports and need to create reports that include advanced formulas, and reports that may be based on more complex SQL statements. No prior knowledge of SQL is necessary to attend this course, but some familiarity is helpful.
Quick Review

How to Plan a Report
Creating Reports
Adding Fields to the Report
Advanced Grouping
Filtering Records
Group Sorting
Group Charting

Advanced Database Techniques

SQL Defined
Why Use Native Database Drivers
Using ODBC to Connect
Using OLE DB to Connect
How to Choose Between ODBC, OLE DB or Native
Linking Database Tables
Using Table Aliases in Joins
Changing Join Types
How to Handle Changes in the Database
How to Verify the Database
How to Set the Data Source Location
What to Do When Fields Change
Using Database Views in Crystal
Using Stored Procedures in Crystal
Using SQL Commands in Crystal
Creating a SQL Command

Creating Advanced Formulas

Branching with the Select Case Statement
Using the For Loop Control Structure
Using While… Do Loops
Using Do… While Loops
Using Arrays to Store Data
Using the Split Function to Retrieve Array Data
Array Sizing Limitations

Creating Your Own Custom Functions

What is a Custom Function
Passing Information to Functions
When to use a Custom Function
Using the Custom Function Editor
Using Crystal Syntax versus Basic Syntax
Setting Custom Function Properties
Using the Formula Expert and Custom Functions
Convert Existing Formulas to Functions
Custom Function Limitations

Creating Efficient Reports

How to View Database Requests
Strategies for Efficient Report Performance
Using SQL Statements
Understanding Record Selection and Performance
Viewing Report Performance Information
Viewing Report Definitions
Using Saved Data in a Report
Understand Report Processing
Getting the Latest Report Changes
Viewing Performance Timing
Using Server Based Grouping
Using the Select Distinct Command

Advanced Cross-Tab Reports

Understanding the Cross-Tab Grid
Identify Cross-Tab Parts
Using Row and Column Indexes
Using Summary Indexes
Grid Value Functions
Embedded Summaries
Conditionally Format Embedded Summaries
Using Calculated Members

Advanced Report Design Techniques

Creating Manual Cross-Tabs
Advanced Subreport Formatting
Advanced Parameter Techniques
Using Custom Fonts in a Report
This course does not align to a specific exam or certification.
Virtual or In-Person Group Training
For Private Groups as small as 2 people.
Live, Instructor-led Online or Onsite Class for your group.
Customizable to your needs.