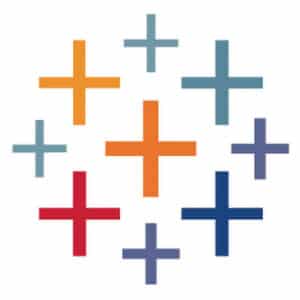 Advanced Tableau Training
This Course Covers Version(s): Tableau Desktop 2020.2
Available Delivery Methods
In this Advanced Tableau Training course, students will go beyond the basics of Tableau to learn about creating complex joins between data, using functions and creating table calculations, extending Tableau's mapping capabilities and performing statistical analysis and forecasting in Tableau. Students will also learn how to enhance visualizations using Tooltips and Dashboard Actions.
Upon successful completion of this course, students will be able to:
Blend data to visualize relationships.
Join data.
Access data in PDFs.
Refine visualizations with sets and parameters.
Manipulate data with calculations.
Visualize data with advanced calculations.
Perform statistical analysis and forecasting.
Enrich visualizations, dashboards, and maps.
Blending Data to Visualize Relationships
How to Blend Data from Multiple Sources
Relationships in Blended Data
Primary and Secondary Data Sources
Troubleshoot and Refine Data Blends
How to Handle Null Values
Joining Data
How to Create Joins in Tableau
Understanding Integrated Data Sources
Inner Joins, Right Joins, Left Joins and Outer Joins
Cross-Database Joins
Troubleshoot Joins
Fixing Broken Joins
Guidelines for Using Data Blends vs. Joins
Merge Data with Unions
Accessing Data in PDFs
Connect to PDFs
Merge Tables and Span Multiple Pages with Unions
Clean Up and Organize PDF Data
Data Source Filters
Refining Visualizations with Sets and Parameters
Create Sets
Create Calculated Members
Create Sets from Marks
Analyze Data with Sets
Apply Parameters to Data to Refine Visualizations
Manipulating Data with Calculations
Create Calculated Fields
Calculated Field Syntax
Manipulate Data with Functions
Analyze Data with Table Calculations
Visualizing Data with Advanced Calculations
Create Groups and Bins with Calculations
Analyze Data with LOD (Level of Detail) Expressions
LOD Syntax
LOD Keywords
Nested LOD Expressions
Performing Statistical Analysis and Forecasting
Perform Statistical Analysis
Using Standard Deviation
Using Trend Line Analysis
Forecast Data Trends
Enriching Visualizations, Dashboards, and Maps
Customize Mapped Data
Custom Geocoding
Mapping with Background Images
Enhance Visualizations with Tooltips
Using Actions in Tableau
Students should have taken, or be familiar with the topics covered in the following course:
Live, Instructor-Led Online Class for INDIVIDUALS
Live, Instructor-Led Online or Onsite Class for GROUPS