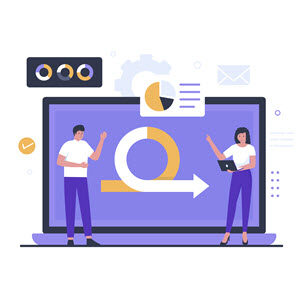 Agile Project Management Training
This Course Covers Version(s): N/A
Live Class with Instructor

Digital Course Manual
Hands-on Labs

One Year Access to Recorded Course
Agile project management has become an increasingly powerful and popular manner to develop new or improved products, services, or results in a variety of fields such as software development, engineering, product development, pharmaceuticals, and process improvement. In environments with moderate uncertainty (for example, changing customer needs or unknown root cause), agile project management has been found to produce higher customer satisfaction in less time compared to more traditional, plan-driven project management methodologies. This two-day course provides both the practice and the theory of planning and managing agile projects using methodologies such as scrum, XP (eXtreme Programming), and lean project management methodologies. It provides both the agile knowledge and skills necessary for scrum masters (coaches), product owners (customers), and team members to succeed. This course qualifies for 14 PDUs.
Upon successful completion of this course, students will be able to:
Describe Core Agile Concepts
Understand the Agile Manifesto
Describe Scrum Methodology Elements and Terminology
Define Project Initiation
Understand the concept of Scrum Teams and Team Space
Define Scrum Planning
Understand the concept of Sprints
Describe other Agile Principles and Best Practices
General understanding of project management concepts is helpful in this course.
Scrum Masters (coaches), Product Owners (customers), team members and anyone interested in learning more about Agile methodologies.
Core Agile Concepts
Core Agile Concepts Overview
Origins of Agile Project Management
Traditional Project Management Methodologies
Agile Project Management Methodologies
Generalizations: Agile and Traditional Project Management Comparisons
The Agile Manifesto
The Agile Manifesto Overview
Manifesto Contributors
Manifesto Values
Manifesto Principles
Common Agile Methodology Elements
Common Agile Methodology Elements Overview
Project (Product; Release) Initiation
Agile Planning
Iteration Planning and Executing
Project Initiation
Project Initiation Overview
Determine Project Justifications
Exercise: Identify Project Justification Metrics
Project Vision Statement
Develop Project Charter
Case Study Selection
Identify Stakeholders and Leader/Coach
Form Project Team
Agile Teams and Team Space
Agile Teams and Team Space Overview
Scrum Master/Servant Leader/Coach (XP)
Product Owner/Customer (XP)
Team Members/Developers (XP)
Team Space
Physical Space Recommendations
Agile Planning
Agile Planning Overview
Develop Epics
Create Stories
Verification/Validation
Wireframes and Storyboards
Functionality Based on User Roles
Story Maps
Estimating Effort: Story Points and Ideal Days
Prioritizing Stories
Methods for Prioritizing Stories
Create Product Backlog
Create Product Roadmap
Conduct Release Planning
Determining Iteration/Sprint Length
Conduct Date-Driven Release Planning
onduct Feature-Driven Release Planning
Sizing Stories
Iterations/Sprints
Iterations/Sprints Overview
Velocity Determination
Iteration Planning Meeting
Iteration Planning Guidelines
Development
Testing
Daily Standup Meetings
Progress Tracking
Velocity Tracking
Burndown and Burnup Charts
Cumulative Flow Diagrams
Kanban Charts
Earned Value
Communicating Information
Backlog Grooming
Iteration Reviews
Iteration Retrospectives
Release Retrospectives
Other Agile Principles and Best Practices
Other Agile Principles and Best Practices Overview
Agile Approaches
Choosing and Implementing an Agile Methodology
eXtreme Programming (XP)
Scrum
Kanban
Scrum of Scrums
Scaled Agile Framework (SAFe®)
Large Scale Scrum (LeSS)
Enterprise Scrum
Disciplined Agile
Lean Software Development
This course does not align to a specific exam or certification.
Virtual or In-Person Group Training
For Private Groups as small as 2 people.
Live, Instructor-led Online or Onsite Class for your group.
Customizable to your needs.