Tableau Training Classes from SkillForge
Tableau
Announcing Our New Tableau Training Classes
Companies around the world are collecting more data than ever – about their customers, their sales and many other aspects of their business. With all of this data, though, the problem becomes how to analyze, make sense of it – and more importantly – make sound business decisions based on it. Business Intelligence tools have increased in popularity in the last few years to help companies do just that. One of the tools that is particularly popular currently is Tableau. Tableau offers five products currently: Tableau Desktop (both Personal and Professional Editions), Tableau Server, Tableau Online, Tableau Reader and Tableau Public. The last two of these products are free for use.
Tableau allows users to connect to many different data sources including relational databases (like SQL Server and Oracle), OLAP cubes, cloud databases (like Azure), and spreadsheets (like Excel.) Once connected data can be linked and analyzed using a variety of different data visualizations including line, bar and pie charts and more advanced visualizations like geographical maps.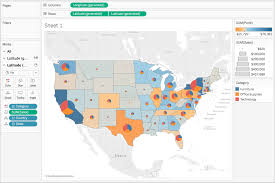 Although it's a very powerful tool, Tableau does have a bit of a learning curve. To assist students in learning Tableau, we offer three different Tableau Training Classes:
Tableau Training: This course introduces students to Tableau, familiarizes them with the Tableau interface, shows students how to connect to a variety of different data sources and introduces students to the main types of data visualizations in Tableau.
Advanced Tableau Training: This course is designed for students who can already build basic Tableau dashboards and now want to create more advanced visualizations using advanced data joins, geographical maps, table calculations and functions. This course also introduces students to the use of R programming language – the industry standard for data mining and statistics – in Tableau.
Advanced Analytics with Tableau and R Training: In this course, students take a deep dive into using R with Tableau. They will also learn how to use advanced analytical techniques such as forecasting, predictions, association rules, clustering, classification, and other advanced Tableau/R calculated field functions.
Wherever you are on your journey to learning Tableau, our Tableau Training classes can help you take your data visualizations to the next level. Visit our Tableau Training course list to learn more about each of these courses. Or contact us if you are interested in having one of these courses delivered at your location for your team.